401(k) Rollover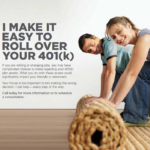 When you change jobs, you need to decide what to do with the money in your 401(k) plan. Should you leave it where it is, or take it with you? Should you roll the money over into an IRA or into your new employer's retirement plan?
As you consider your options, keep in mind that one of the greatest advantages of a 401(k) plan is that it allows you to save for retirement on a tax-deferred basis. When changing jobs, it's essential to consider the continued tax-deferral of these retirement funds, and, if possible, to avoid current taxes and penalties that can eat into the amount of money you've saved. Click here to read more. 
If you are preparing to change jobs, do you know what your choices are for managing the money in your current employer's retirement plan? Although many people choose to take a cash distribution, there are other options that may benefit you more.
Uncle Sam Loves Cash Distributions
Taking a lump-sum cash distribution may trigger an immediate 20% federal withholding tax. In addition, a 10% tax penalty may apply if you are younger than age 55. Taking your money in cash also means that you'll no longer enjoy the potential benefits of tax deferral that a qualified retirement plan offers. Click here to read more.
It's a fact: The average American holds nine different jobs before the age of 34.* It's also a fact that the decisions you make about how to manage retirement assets when changing jobs can have a direct impact on your future financial health.
Case in point: "Cashing out" retirement plan assets before age 59½ (55 in some cases) can expose your savings to immediate income taxes and a 10% IRS early withdrawal penalty. On the other hand, there are several different strategies that could preserve the full value of your assets while allowing you to maintain tax-deferred growth potential. Click here to read more.
What's next?: Get Your Questions Answered! Contact Us
What's next?: Learn About Our Services
What's next?: Learn About Our Team
What's next?: Join us on Facebook. Join the conversation