How to Get Started

One step and you are on the way to your future.
Step 1.              Visit our website to learn more about us and contact our office to schedule your free consultation (usually 1 hour –  via in person or over the phone).
Step 2.              Once scheduled you will receive three things:
Email confirmation.
Helpful materials based on your individual questions/concerns.
List of documents you may want to bring/discuss during our meeting.
Step 3.             If we both feel like we're a good fit for you, you are ready to go!
---
First Meeting: What to Expect?
Our unique multifaceted process allows us to deeply understand our clients and their financial situations. You are important and thus we take the time to get to know you. Your family, lifestyle, and career goals are key to our personal planning. Below are a few areas we discuss with our clients in order to designate the type of planning needs they may have and the solutions that will be beneficial for them.
Goals in meeting with us:
Priorities of your life goals:
Your interests:
Your personal relationships:
Your professional relationships:
Identifying your needs and objectives:
Your preferred methods  of communication:
Etc.
The benefit of our individualized process is that we apply this information to conclude current expenses and liabilities, along with future financial aspirations, lifestyle goals and plans for leaving a legacy to family or charity. From there we create a customized plan that will help get our clients from where they are to where they want to be with helpful guidance along the way.
 Sample Client Experience Timeline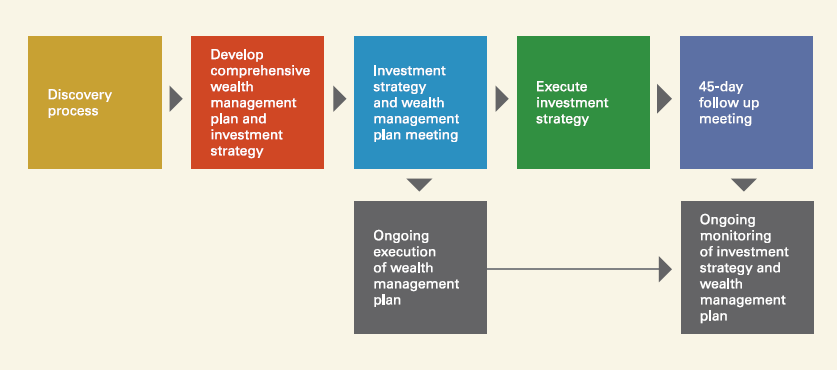 Contact us to schedule your free consultation at (540) 801-8000 or info@goodwealthonline.com.
What's Next?: Learn More About Our Team
What's next?: Learn About Our Services
What's Next?: Learn More About LPL Financial
What's next?: Join us on Facebook. Join the conversation