Investment Challenge

The 2011 Good Wealth Management
Investment & Financial Planning Challenge
(Learn about the 2012 version of the Investment Challenge here)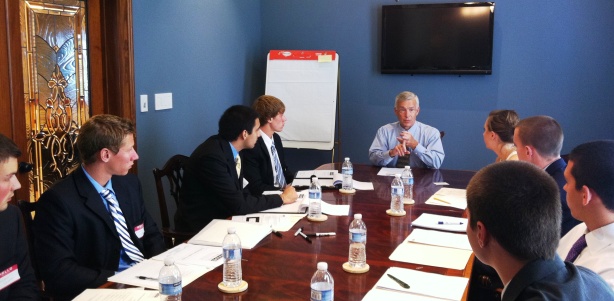 "Good Wealth Management aims to train interested JMU students to become the next generation of competent Financial Advisors.  Advisors who raise the bar.  Advisors who provide real advice.  Advisors who are not interested in being salesmen. "
Winners announced:
Congratulations Team 6 and Team 3!
Update:
Eight students have been invited to take their learning experience to the next level:  The Good Wealth Management Spring Externship.  The teams will be exposed to two additional real-life investment scenarios, one of which will be managing a (fictitious) $13Million Endowment of a non-profit organization.
---
The Financial Planning & Investment Challenge Competition is an opportunity for students to manage a $1,200,000 portfolio in groups of 3-4 (at least one Junior).  The teams will have the responsibility of designing, executing and monitoring a retirement strategy for a (fictitious) client who lives in Virginia. The best three teams will receive awards and recognition at the GWM annual Gala.
The goals of the Challenge are:
1)    To create an Investment & Financial Planning Challenge that will allow students to apply investment skills learned through the College of Business to real life investment scenarios.
2)    To mentor students interested in Financial Planning and Investment Management and give them the opportunity to acquire invaluable work experience.
3)    To expose students to the benefits of an independent advisory firm (freedom, flexibility, availability and variety of financial products).
The teams are evaluated based on the quality of the strategy, as well as the risk and performance of the portfolio at the end of the challenge.
Investment Challenge News:
The challenge started in October and will continue through the end February.
Mid-term Reports have been evaluated. Comments will be returned to the students.
We have approached the end of the challenge. We are proud of our students!
The winners will be announced on April 17th at the Award Ceremony.
We are growing our partnership with JMU COB to augment student reach and impact for next year.
Winners announced: Congratulations Team 6 and Team 3!
To view the past team ranking scores: http://www.goodwealthonline.com/team-portfolio-ranking/.
To learn more details on the challenge: http://www.goodwealthonline.com/investment-challenge-info/.
What's Next?: Learn More About Our Team
What's Next?: Learn More About LPL Financial
What's next?: Learn About Our Services
What's next?: Join us on Facebook. Join the conversation