When Divorce Happens
Going through a divorce can be difficult, no matter the reason, because it represents loss. Not just the loss of a relationship, but also the loss of shared dreams and commitments. The process can turn your world ―and the world of everyone involved― upside down, but there are ways to help you chart a new course for your life.
Understand that your feelings are normal.
You may feel sad, angry, frustrated, or exhausted. Maybe, you are anxious about the future. Whether or not this is a new situation for you, these feelings may be intense. Accept that they are normal, and will lessen over time.
Take Care of Yourself.
Be good to yourself emotionally and physically. Take time to exercise, eat well, and relax. Stick to your normal routine as best as you can and avoid rushing to make major changes to any life plans.
Be flexible.
If you have children, it's important to maintain family traditions. Instead of avoiding activities, take the opportunity to adjust them to fit your new life and fuel new family traditions.
Think positive.
Be patient with yourself. Moving forward with reasonable expectations will help to make your transition easier.
"Avoid conflict, if you can. Legal fees are typically the
biggest divorce-related cost. If your separation is not a
civil process, there can be a lot of back-and-forth, at a
significant cost. Try to see each other's points of view
and arrive at an agreeable solution, as it will be in
everyone's best interest in the long run."
Five opportunities to help you prepare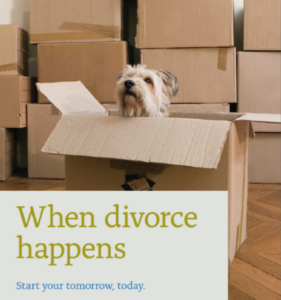 While no divorce is easy, there are ways to help you during this process. Preparing for a divorce before it happens can reduce some of the stress that you'll likely face while it's happening. Planning ahead helps you get organized, make sound decisions, and start preparing for your life after a divorce.
1. Seek professional assistance.
2. Gather your important paperwork.
3. Create financial distance.
4. Bring your taxes up-to-date.
5. Maintain or establish good credit.
Don't go it alone
During a divorce, choosing a qualified and compassionate family professional can be one of the most comforting decisions you can make. In addition to legal advice and support, you may also need financial guidance. Seek the assistance of a group of professionals to help you clarify your financial situation and outline your options as you start your new life. Our team is here to help you confidentially, whenever your're ready.
Download a complimentary brochure, "When divorce happens. Start your tomorrow, today"; and don't forget to watch the short video below:
You may also be interested in: