How to Get Started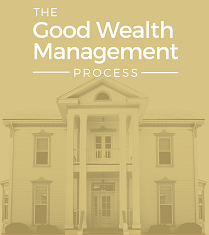 At Good Wealth Management, we understand the big picture –not just the investments.  Our Process starts with an initial meeting (complimentary) to get to know each other; in a relaxed atmosphere you will learn about our firm and we will learn about you. The goal is to explain our Wealth Management process, evaluate whether our team would be able to help you, and if it makes sense to work together (in some cases we may offer a referral to another professional that we think could meet your needs better than us).
Ready to get started?
Step 1. Contact our office to schedule your confidential consultation. This meeting should usually last 1 hour – in person (local clients), or over the phone (for clients outside the area).
Step 2. Once scheduled you will receive a reminder (phone or e mail) and a list of some documents you may want to bring.
Step 3. During the meeting we will discuss the services we believe we can offer in your situation (if any), and will determine the next steps.
Confidential Consultation: What to Expect?
A very relaxed "get-to-know-each-other" environment. We would like to get to know you, your family, your lifestyle, your concerns, and your goals.  Below are a few areas we may discuss in order to designate the type of planning needs you may have and the solutions that will be beneficial for you:
Goals in meeting with us
Priorities of your life goals
Your personal relationships
Identifying your concerns, needs and objectives
Your current financial circumstances
Your preferred methods  of communication
Other
We will answer your questions during the confidential consultation but not a formal financial plan or any specific recommendations will be provided. We will also discuss cost and fees for Financial Planning and Investment Management. There is absolutely no obligation to you or us during this process.  We believe it's worth spending some time getting to know each other in order to make sure we are a good fit. We believe mutual respect and open communication are the foundation of long-term successful relationships.
Ready to schedule your Confidential Consultation? – Contact us at (540) 801-8000 or info@goodwm.com.
You may be interested in: