Genevieve
Welcoming Committee Canine

Have you met Genevieve? She is not just your regular lazy office dog, Genevieve takes her job as welcoming committee canine very seriously. Her main duty is to make sure all the clients that come in the door are welcomed with a wet nose, so they can be alert while they handle their business. In addition, Genevieve helps her fellow staff members by roaming the office and making sure everyone is hard at work as well as providing emotional support by allowing her coworkers to pat her head if they need a little encouragement to get through a long day.
Her job isn't easy, so she takes lots of days off and naps to come to work rejuvenated and refreshed. Next time you see Genevieve be sure to tell her all her hard work has not gone unnoticed, and say "Thank you!" with a friendly scratch behind the ears.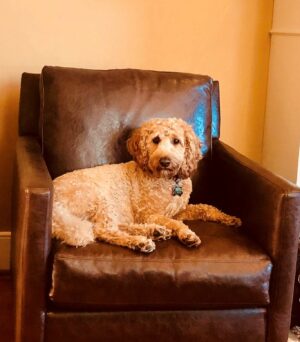 ---
Investment advice offered through Private Advisor Group, a Registered Investment Advisor. Good Wealth Management and Private Advisor Group are separate entities from LPL Financial.
Securities Offered Through LPL Financial Member FINRA / SIPC.
LPL Financial Representatives offer access to Trust Services through The Private Trust Company N.A., an affiliate of LPL Financial.
The financial professionals associated with LPL Financial may discuss and/or transact business only with residents of the states in which they are properly registered or licensed. No offers may be made or accepted from any resident of any other state.